Host Our Yoga Workshops and Trainings at Your Site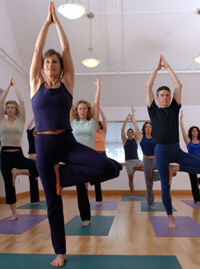 It's never been easier to bring workshops and teacher trainings to your yoga studio or group in Southern California.
Nancy Wile, the owner and founder of Yoga Education Institute, is available on a limited basis to offer workshops and trainings at a few yoga studios and groups throughout Southern California. Nancy's workshops have been enthusiastically received and would bring both additional income and a new knowledge base to your studio or center. Learn more about Nancy.
Nancy currently conducts workshops (see below) and teacher trainings, including our 200 hour, 300 hour, children's yoga teacher training (RCYT), and prenatal yoga teacher training (RPYT).
Learn more about adding Yoga Teacher Trainings (RYT, RPYT, RCYT) to your current location through our affiliate and curriculum only programs.
Workshops
Below are samples of previous workshops. If you have any questions or if you would like to discuss possible workshops for your group, please email Nancy at: info@yogaeducationinstitute.com Thank you!
The Business of Yoga for Yoga Teachers
This workshop is for yoga and wellness teachers who are interested in learning more about creating ongoing opportunities and abundance for themselves and others within the business aspects of yoga and wellness. Participants will learn how to: find the best niche for themselves, market their products and services effectively, develop strategic partnerships, use technology to increase their student base and profitability, and create a financial plan and build wealth, while doing what they love
Back to Health: Yoga for a Healthy Back
In this workshop, students learn the main causes of chronic back tension, the effects of particular muscular imbalances on the back, and how yoga can help. Students learn specific yoga postures that can help various back health issues, proper biomechanics of movement, and how to maintain proper posture when sitting or standing to protect, strengthen and heal the back.
Deepening Your Yoga Practice Through the Use of Props
Learn how to use your yoga props (blocks, straps, blankets, bolsters) in ways that will transform your practice. Begin to see many familiar postures in a brand new way through the effective use of props to go deeper into postures, improve alignment, and take your practice to a whole new level.
Inversions for Everyone
From simple to complex, you'll discover the inversions that are right for you, in a safe and fun environment. This workshop is designed for students who would like to gain confidence in a variety of inversions, and for yoga teachers who would like to learn how to safely teach inversions in a step by step process. Inversions offer great benefits to the circulatory system and immune system, and they are known to be a natural anti-depressant. In this workshop, you will learn to gracefully go upside down in a playful and focused manner.
If you are interested and would like us to send you more information or to check for available times, please send an email to:info@yogaeducationinstitute.com with the subject line: Yoga Workshops or complete our contact us form.
If you have any questions, please email: info@yogaeducationinstitute.com or call us at: (866) 790-2040.