Online Prenatal Yoga Teacher Training Program
$97
60 Day Money Back Guarantee, Prenatal Program In-Person Training
Our online program offers a certificate of completion, as well as 20 hours of continuing education credits with Yoga Alliance for current yoga teachers. Completing both the online and in-person programs fulfills the requirements for the Registered Prenatal Yoga Teacher (RPYT) with Yoga Alliance.
Interested in our more advanced In-Person Prenatal Teacher Training? Learn more about the in-person program to and how to earn the full RPYT with Yoga Alliance and to take your prenatal yoga training to the next level.
What's included in the online yoga training program
Benefits of Prenatal Yoga, Safe and Unsafe Postures, and Considerations by Pregnancy Trimester
Prenatal Anatomy and Fetal Development
Warm Ups and Sun Salutations for Prenatal Students
Prenatal Standing Postures
Prenatal Seated and Lying Postures
Effective Use of Props and Chair Yoga for Prenatal Yoga
Pranayama for Prenatal Students
Meditation for Prenatal Students
Prenatal Partner Yoga
General Anatomy of Hatha Yoga
Common Post-Natal Problems
Parent and Baby Yoga
You also receive sample lesson plans, client intake forms, and our videos demonstrating prenatal yoga practices. You can also schedule one-on-one sessions via web conferencing (google hangouts, zoom, etc) to meet live with Nancy and go over any questions.
In-Person Prenatal Yoga Program (RPYT)
If you're interested in earning your Registered Prenatal Yoga Teacher (RPYT) designation with Yoga Alliance, learn more about our in-person program.  Currently, our in-person trainings take place via Zoom. Our next training will be held in March 2024.
Many women want to continue their yoga practice during pregnancy. Prenatal yoga helps individuals before and after they give birth, as well as during the birthing process. The breathing and body awareness developed through yoga helps women stay connected to their changing bodies. The stretches and postures help relieve back pain common during pregnancy, and help develop the strength and stamina necessary for giving birth. Yoga helps develop an overall healthier body, making it easier to bounce back after birth. However, if you are unaware of the precautions recommended for pregnant students, you may be putting your students or yourself at risk. Whether you are a yoga teacher, or are pregnant yourself, it is important that you know how to practice yoga safely during pregnancy.
Our prenatal yoga education programs focus on developing your ability to provide pregnant women with safe, effective, and fun yoga practices throughout every stage of their pregnancy. The program emphasizes positive teaching techniques, proper sequencing, safety considerations, and easy modifications to make each class a fun and rewarding experience for everyone. Finally, you will learn not only how to create safe programs, but how to make those yoga practices transformative for your students or yourself during this special time in life.
Our online program is suitable for:
Yoga teachers who want to add prenatal yoga classes to their teaching schedule.
Yoga teachers who want to be prepared for any prenatal students who may attend their regular classes.
Pregnant women who have practiced yoga and want to continue their practice during their pregnancy.
Medical and health professionals or childbirth educators who work with pregnant women (physicians, nurses, midwives, doulas, etc).
The Benefits of Yoga For Pregnant Women
Improved strength, flexibility, and endurance
Reduced back pain and sciatica
Relieving stress and anxiety
Improved sleep
Improved breathing and lung capacity
Better digestion
Help in maintaining and improving posture
These are just a few of the many benefits for pregnant women when they learn yoga from you.
To earn your certificate:
You will need to complete the following:
Complete an open book written exam, and include a sample lesson plan
Complete a personal statement about your goals and why you want to teach prenatal yoga
Sign and submit a Yoga Teacher Ethics statement
Once you complete the virtual (online) program, you will receive your certificate of completion for the Prenatal Yoga Teacher Training course. This certificate provides you with continuing education credit with Yoga Alliance, and allows you to obtain professional liability insurance for the purpose of teaching prenatal yoga. Many of our students stop at that point and do well teaching.
In-Person Program Option for Yoga Alliance Registration (RPYT):
If you want to complete the more advanced Registered Prenatal Yoga Teacher distinction with Yoga Alliance, additional in-person training is required.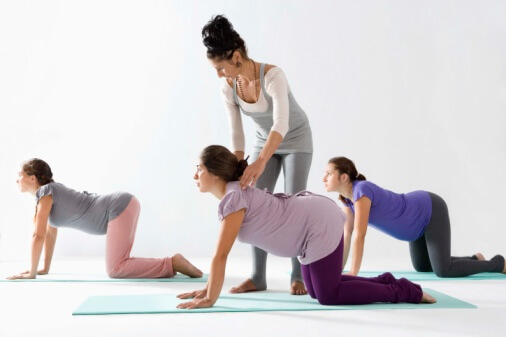 Our next In-Person Prenatal Yoga Teacher training will be held via Zoom in March, 2024.
Frequently Asked Questions
Is this program recognized by Yoga Alliance?
We are a Registered Yoga School with Yoga Alliance. In addition to the online program, we offer an in-person training. Completing the online program provides 20 hours of continuing education credit with Yoga Alliance for current yoga teachers. Completing both the online and in-person trainings fulfills all the requirements for the Registered Prenatal Yoga Teacher designation with Yoga Alliance.
What if I try the program and decide it's not right for me?
Our program is 100% guaranteed. If for any reason you are not completely satisfied, simply email us within 60 days for a full refund. We are always happy to give you a full refund and appreciate having you try out our program.
Do I receive on-going support after the program?
Yes, after you complete the program, you will continue to receive any needed support. And, you will always have access to the online materials and to any additions or updates to those materials. Our founder, Nancy Wile, is also happy to answer any questions you have regarding yoga or professional development, via phone, email, or on Zoom, whenever you need.
What to expect when you order?
When you order the online Yoga Teacher Training Course, you will receive a confirmation and email within 24 hours of your order that includes a link to the course, including all course modules and instructions. Once in the course, you will see a "Start Here" message that includes all the instructions for completing the course.

Nancy Wile
Nancy Wile (E-RYT 500), the founder of Yoga Education Institute, created our online and in-person yoga teacher training programs. She works individually with each student who registers for the online prenatal program. She has been practicing yoga for nearly 30 years and has been training yoga teachers (RYT 200, RYT 500, RPYT, and RCYT programs) for more than 15 years. She has a doctorate in education from Columbia University and, along with teaching yoga and training yoga teachers, she has spent much time teaching and developing health and wellness programs. 
Join Our Online Prenatal Yoga Teacher Training
If you have any questions, please email me.
Sign Up for Freebies
Get your Free Copy of "Safe and Unsafe Postures During Pregnancy"