In-Person Prenatal Yoga Teacher Training (RPYT)
A more in-depth training than the online course. This program fulfills the requirements for the Registered Prenatal Yoga Teacher (RPYT) certification with Yoga Alliance for current Yoga Teachers.
***Please Note – Due to COVID-19, we are still holding our in-person training via Zoom. This training will be back in-person in January 2022.
Our next training will be held October 28, 29, 30, November 4, 5, 6, 2021 via Zoom.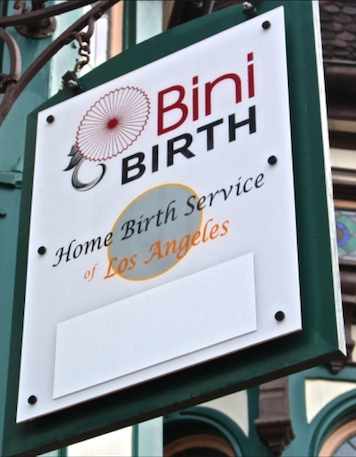 in Los Angeles
Location  (This training is now taking place via Zoom)
Bini Birth
13743 Riverside Drive
Sherman Oaks, CA 91423
This program will be facilitated by Nancy Wile, who is the founder and director of Yoga Education Institute.
Through this training, you'll learn to teach safe and transformative yoga practices to pregnant women. This training is beneficial for current yoga teachers, health care providers, and pregnant women themselves. The program focuses on positive teaching techniques, proper sequencing, and safe modifications to make each practice a rewarding experience.
This program is suitable for:
Yoga teachers who want to add prenatal yoga classes to their teaching schedule.
Yoga teachers who want to be prepared for any prenatal students who may attend their regular classes.
Pregnant women who have practiced yoga and want to continue their practice during their pregnancy.
Medical and health professionals or childbirth educators who work with pregnant women (physicians, nurses, midwives, doulas, etc).
This program (completing both the Zoom training and the self-paced online course) fulfills the requirements for the Registered Prenatal (RPYT) certification with Yoga Alliance for current yoga teachers.
The following is an overview of the schedule for the training:
Thursday, (Day 1) 8:00am – 12:00 pm Pacific Time
Friday, (Day 2) 8:00 am-12:00 pm
Saturday, (Day 3)  8:00am-12:00 pm
No group classes on Sunday-Wednesday between the two groups of sessions, but you can use this time to prepare for practicum, complete homework assignments, free time
Thursday, (Day 4)  8:00 am – 12/12:30 pm Pacific Time
Friday, (Day 5) 8:00am-12/12:30 pm
Saturday, (Day 6)  8:00am-12/12:30 pm
Please note that everything is in Pacific Time.  All sessions will be recorded, so if you need to miss anything, you can watch the recordings and make-up anything that is missed.  Pracitcum are individually scheduled outside of group training time. For a detailed schedule, please contact us at: info@yogaeducationinstitute.com
Benefits of Prenatal Yoga
Safe and Unsafe Posture and Considerations by Pregnancy Trimester
Prenatal Anatomy and Fetal Development
Anatomy of Movement and Anatomy of the Pelvis
Teaching and Practicing Warm Ups for Prenatal Students
Teaching and Practicing Prenatal Standing Postures
Teaching and Practicing Prenatal Seated and Side Lying Postures
Pranayama, Meditation, Relaxation and Yoga Nidra for Prenatal Students
Chair Yoga for Prenatal Students
Effective Use of Props in a Prenatal Yoga Class
Child birth education and issues related to parenting transitions
Philosophy of Yoga and Yoga Sutras, and how it Relates to Pregnancy
Birthing from Different Cultures
Building Community with Your Prenatal Students
Post natal Issues and parent/baby yoga
Working with Medical Professionals
Marketing and the Business of Teaching Prenatal Yoga
Tuition and Program Requirements
For those who wish to obtain the registered prenatal yoga teacher (RPYT) certification with Yoga Alliance, both the online course and the in-person training must be completed. The tuition for the in-person training is $495, and the tuition for the online course fee ($97).
Completing both the online course and in-person training allows current yoga teachers to upgrade their yoga alliance certification to include RPYT certification.  The total cost for the program includes two payments: 1) $97 for the online self-paced course and materials, 2) $495 for the in-person (via Zoom) training.
For those who do not wish to complete their RPYT certification, they can still attend the in-person training for continuing education credit, or simply for personal development.
There are many good reasons to choose this program:
Flexible Training Schedule.  Since some of the training is online and some is scheduled individually, it gives students more flexibility in completing the requirements for Prenatal Yoga Teacher Training certification.
Experienced Trainer. Nancy Wile, founder of Yoga Education Institute, has been offering prenatal yoga teacher training programs for over ten years, and has been practicing yoga since the 1990s.
Individualized Training.  Our programs are inspired by T. Krishnamacharya and his focus on an individualized approach to yoga. In our trainings, you are the focus and the center of everything we do. Rather than mold you into our style, we realize the amazing qualities you bring with you, and work to help you share your own voice and style as a yoga teacher.
Amazing Location.  Through our partnership with Bini Birth, we are able to bring you their expertise in childbirth education, in addition to our expertise in prenatal yoga.
Affordable.  Along with offering the highest quality training programs, we are mindful of your budget and do our best to make our programs affordable. While we keep our tuition costs low, you will be amazed by the quality of our training programs.
Long Term Support.  We are always here for you, supporting your work as a yoga teacher, bringing new opportunities to you, and working with you to help you develop your full potential in yoga and in life.
Money Back Guarantee.  We feel so confident of our programs that, if for any reason you are not satisfied, we are always happy to give you a full refund.
Frequently Asked Questions
What if I decide to not attend the in-person prenatal teacher training and no longer wish to complete the online program?
Our program is 100% guaranteed. If for any reason decide not to proceed with the online course or the in-person training, you will receive a full refund for any payments made up until the first day of the training.
What type of certification will I have when I am done?
The completion of both the in-person training and the online course will qualify you for the RPYT (Registered Prenatal Yoga Teacher) if you are currently registered as a teacher (RYT) with Yoga Alliance.
How much yoga experience do I need to enroll in the program?
You simply need to love yoga and an interest in working with prenatal students to enroll in both the online course and the in-person training.
What if I have to miss a portion of the training?
Any missed sessions must be arranged in advance and will be handled on a case-by-case basis.
When is the tuition due?
After submitting your application, you will be asked to pay a fee of $97 for the online course materials and registration fee to reserve your space in the in-person training. Tuition for the in-person training is due before the first day of class.
What if I've already taken your Prenatal Yoga Teacher Training Online Program?
The application asks whether or not you have previously taken the Prenatal Yoga Teacher Training Online Program. You will not need to pay the $97 fee to sign up for the in-person training.
Space is limited. Register for the Prenatal Yoga Teacher Training Program now.
We Are Here For You
We recognize that choosing the right yoga teacher training program is a big decision, and we want you to be well-informed of your options and comfortable with our program and team before making the commitment. Feel free to sign up here and receive information to help you along the journey of becoming a yoga teacher.
Sign Up for Freebies
Get your Free Copy of "Safe and Unsafe Postures During Pregnancy"